Description of Alhambra
Alhambra consists of a huge area with beautiful gardens, fountains,the NasridPalaces, a military fortress, and the Generalife palace and a lot of other beautiful buildings within the palace area.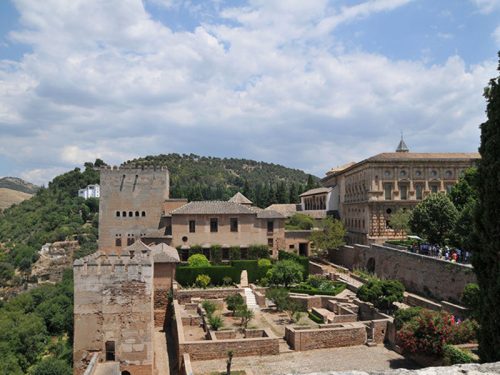 The history of the Alhambra is linked with the geographical place where it is located: Granada. On a rocky hill that is difficult to access, on the banks of the River Darro, protected by mountains and surrounded by woods, among the oldest quarters in the city, the Alhambra rises up like an imposing castle with reddish tones in its ramparts that prevent the outside world from seeing the delicate beauty they enclose. Alhambra got its name from the reddish walls, in Arabic, "qa'lat al-Hamra' " means Red Castle. The first historical documents known about the Alhambra date from the 9th century.
Originally designed as a military area, the Alhambra became the residence of royalty and of the court of Granada in the middle of the thirteenth century, after the establishment of the Nasrid kingdom and the construction of the first palace, by the founder king Mohammed ibn Yusuf ben Nasr, better known as Alhamar.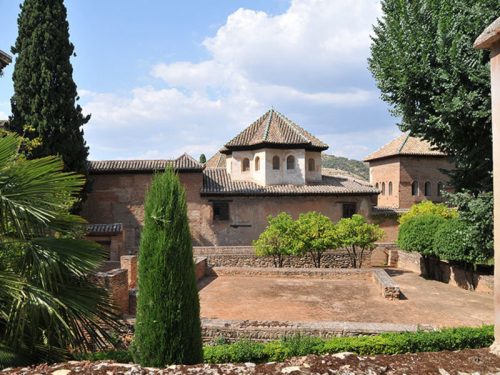 Throughout the thirteenth, fourteenth and fifteenth centuries, the fortress became a citadel with high ramparts and defensive towers, which house two main areas:
the military area, or Alcazaba, the barracks of the royal guard,
and the medina or court city, the location of the famous Nasrid Palaces and the remains of the houses of noblemen and plebeians who lived there. The Charles V Palace (which was built after the city was taken by the Catholic Monarchs in 1492) is also in the medina.
The complex of monuments also has an independent palace opposite the Alhambra, surrounded by orchards and gardens, which was where the Granadine kings relaxed: the Generalife.
Information:
Link to buy a ticket to Alhambra here
Distance form the Apartment: 95 km
Book at least 3 hours for your visit to the Alhambra
NOTE! Visit / entry to the stunning Nasrid Palace in the Alhambra can only be made within the hours standing on your ticket, do not miss this! (This is due to limited capacity in the palace)
Att ta med sig:
Alhambra är ett stort palats område så bekväma skor är att rekommendera
Ta med mycket vatten! Under sommaren är det extremt varmt i Granada
Ta med din kamera, Alhambra är en vacker plats